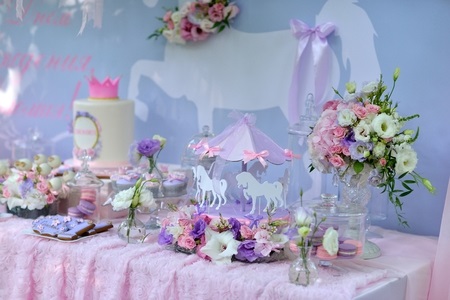 With warmer months on the horizon, party planning season is almost here. It's time to start considering what rentals might make your next party the one to remember.
Don't be afraid to take advantage of the gorgeous weather by gathering loved ones, your community and/or congregation to celebrate anything from birthdays to block parties. In fact, you don't really need a reason at all to plan a party other than getting people together for some fun in the sun.
As you begin your party planning this spring, the first step should be finding a theme for your festivities.
Here are three great springtime-themed party ideas that we love:
Sweet Barnyard
Whether you're celebrating a birthday or hosting a community event, a sweet barnyard party is sure to impress guests of all ages. Celebrate spring with festivities themed towards farm animals and rustic living. Want to bring the farm right to your party location? Consider renting pony rides from New Joy Farm which are guaranteed to entertain children of all ages. Along with rustic elements, animal and farm-themed décor and treats are a must. Think cake pops decorated to be chickens, sheep, pigs and cows. Put out decorative hay bales for quick and easy décor.
Spring Fling
You've finally put away your winter clothes for the season and the sun is out, we'd call that a reason to celebrate! One simple, yet fun theme to incorporate at your next event is your own version of a "spring fling." Why not celebrate the changing of seasons with your loved ones, community, or congregation? Decorate with light pastels and plenty of flowers. Sip on citrus drinks and serve fresh fruits and vegetables. Some great "spring fling" small touches include mason jars, chalkboards, and greenery.
Vintage Pony
Throwing your daughter's birthday party this spring? Add a splash of princess and with a touch of rustic nostalgia for a unique party theme that appeals to all ages. This vintage pony-themed birthday party is a great way to celebrate your little girl, and renting pony rides are a must, especially for the little girl that is always asking for a pony of her own. Decorate with plenty of lace, natural wood, burlap, roses, and light pink ribbons to achieve a vintage princess look.
For more information about incorporating pony rides into your next event and for information on other party rentals from bounces houses to face painting, visit New Joy Entertainment & Farm.