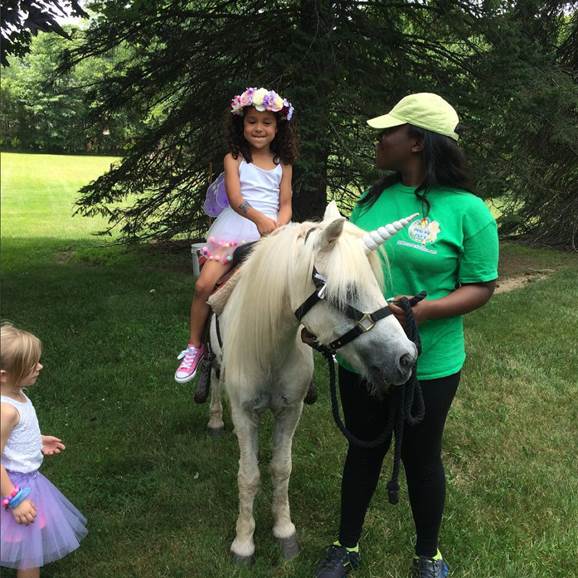 Unicorn parties are becoming increasingly popular among children.
If your little one is begging for a unicorn birthday party, we came up with a few party ideas to help you get started.
Delight with Decorations
You can typically purchase a variety of basic party supplies such as plates, cups, and napkins with unicorns pre-printed onto them. If you're sticking to a color theme, such as purple, gold, or rainbow, keep that in mind when you're picking out the cutlery. It might seem silly, but every person at the party will have their hands on a plate and a napkin at some point, so the party supplies count as décor.
Consider picking up some unicorn-themed decorative items, such as streamers, party poppers, table covers, and more. We love the idea of hosting a rainbow themed party because you can essentially buy any decorations that your heart desires and make them work.
String up some white Christmas lights to give the room a bit of a fairytale twinkle. Fill a room with assorted pastel balloons to incorporate large amounts of color in a fairly simple way.
Food
A unicorn cake is a great option for kids of all ages, and adults too. Whether you are making your own cake or you are ordering one from a bakery, there are plenty of different ways to create one. You can frost the cake with a variety of pastels, which will easily create a rainbow effect.
Consider covering your cake with rainbow sprinkles as well, which can quickly make a simple cake feel a bit more fun.
Serve a bright colored punch from a jar labeled "Prancing Pink Lemonade," as a simple but adorable touch. Consider covering plain ice cream cones in melted colored chocolate and cover with rainbow sprinkles. Flip them to stand-up to get a unicorn horn snack that children will love.
Entertainment
You can't just have a pin the horn on the unicorn game as entertainment, children will get tired of it quickly. Instead, have pony rides available at the party instead.
We can easily dress up a few sweet ponies with a "unicorn horn" and you can offer unicorn rides instead. Children will be in complete awe to see a unicorn at a birthday party, and photo opportunities are endless.
New Joy Farm Entertainment loves bringing our love of animals and the relaxing country lifestyle to kids and adults throughout the Tristate region.